Lights, camera and action! These are the three words that symbolize movies, besides actors and the gltiz and glamour associated with them. Often, it is the actors that are said to add the iconic touch to movies, but there are several movies where a crazy set of wheels are what have made that particular movie iconic, and often it is because of those bikes that movies are famous.
And certain movies whether made internationally or within the country itself, have never failed to set our hearts racing when the hero or heroine zooms into the frame with a beautiful set of wheels and hence, grabbing all our attention.
Thus, this article is an ode to all the bike lovers out there, from us here at Wicked Ride! Here's to the never-ending passion within our hearts, and here's to the spirit that lives within.
Top Gun(1986):
Motorcycle: 1985 Kawasaki GPZ 900 R
Rider: Tom Cruise
Besides being one of Tom Cruise's most iconic movies, it also had one of the most iconic bikes. Maverick (Cruise) was truly an inspiration for all, leaving all our hearts racing with his iconic acting and skills. He not only did justice to the role but also in truly showcasing the beauty of a GPZ900 R that truly caught everyone's eye.
Easy Rider(1969):
Motorcycle: Custom Harley-Davidson Hydra Glide
Rider: Peter Fonda
Besides, being a turning point in American film history, Easy Rider also captured the true spirit of the prevalent American youth culture that comprised of outcasts and true rebels and showcased the differences amongst various generations.
For the movie, four used cop bikes were turned into choppers by Cliff Vaughns and Ben Hardy out of which two were built as emergency-replacement bikes due to most of the cycles being stolen prior filming.
First Blood(1982):
Motorcycle: Yamaha XT 250
Rider: Sylvester Stallone
John Rambo not only had crazy skills which involved using big firearms and big knives, he also had crazy riding skills that involved being able to master the ability to ride an XT 250 and using it to evade gunfire, cops and the traffic as well as being able to do crazy stunts on it. This way, the bike became the true iconic star of the movie.
The Motorcycle Diaries(2004):
Motorcycle used: Norton International
Rider: Jean Pierre Noher and Rodrigo de la Serna
Besides being a coming-of-age movie, set on a road trip embarked upon by two friends, The Motorcycle Diaries is about the story of this Norton International, that was later used as the prime mode of conveyance for these two friends. They call it a beast, and it truly proves to be a beautiful one in the movie.
The journey turns out to be one that is not only spiritually and politically awakening, but also one that empowers a generation to hop on a motorcycle and embark on a journey that is life-changing.
Quantum of Solace(2008):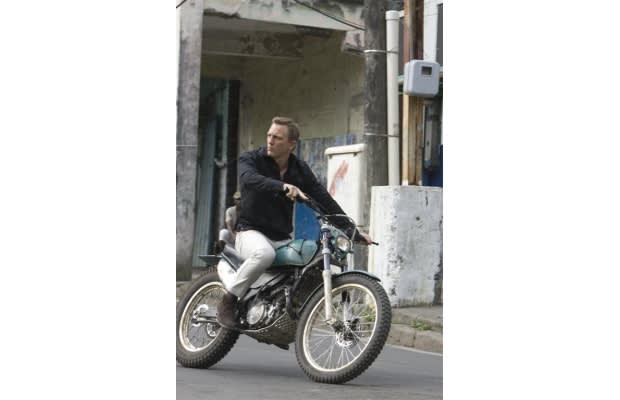 Motorcycle: Montesa Cota 4RT (modified)
Rider: Daniel Craig
James Bond is not only a master of all minds and gadgets, he's also a master when it comes to riding crazy bikes like the Cota 4RT. A previous Montesa model was what multiple world trials champion Dougie Lampkin won his titles on. No wonder Bond chose its slightly more advanced successor. Nothing but the best for 007, after all.
The Matrix Reloaded(2003):
Motorcycle: 2001 Ducati 996
Rider: Carrie-Anne Moss
There's nothing hotter than a woman riding a bike and that too with so much agility and Trinity nails the iconic freeway chase scene where she rescues a nondescript businessman. What's truly awe-inspiring his her ability to control the Ducati with ease and beauty, and it's a scene that no one can ever forget.
Ghost Rider(2007):
Motorcycle: Custom HD Panhead Chopper
Rider: Nicholas Cage
While it's true, that graphics added to the beauty of Johnny Blaze's leather-clad skeleton on fire riding motorcycle, Cage actually rode a Panhead Chopper, which was actually modeled after the Easy Rider "Captain America" bike prior to its angry transformation into a huge beast with a giant skull for a headlight and chains for forks. Another fun fact is that Easy Rider's Peter Fonda plays Mephistopholes the Devil in the movie and that makes Ghost Rider an even better motorcycling homage film.
Terminator 2: Judgment Day (1991):
Motorcycle: 1990 Harley-Davidson FLSTF "Fat Boy"
Rider: Arnold Schwarzenegger
The Fat Boy was the perfect choice for Arnold when the Terminator says; "I need your clothes, your boots, and your motorcycle," especially with its huge wheels, tires and hulking V-twin mill. It propels the Austrian version of the Cyberdyne Systems 101 through myriad dangers. We love the fact that Cyberdyne took the time to program the hulking machine (Arnold) with the ability to ride the hell out of a hog.
The Dark Knight(2008):
Motorcycle: Bat-Pod
Rider: Christian Bale
Christopher Nolan truly makes the impossible possible, as he made the custom made Bat-Pod vision turn into a reality. With some expert stunt riding, it was possible to create this monster.
The long wheelbase and interminably wide wheels gave the Bat-Pod a truly unique military look that was worthy of the Dark Knight. The fact that the wheels could rotate laterally and the bike could actually elongate were features that truly caught every bike lover's heart.
Sholay(1975):
Motorcycle: 1942 BSA WA 500cc bike
Riders: Amitabh Bachchan and Dharmendra
And for the epic finale, we have the legendry and iconic bike from the popular and ever-green song, "Yeh Dosti Hum Nahi Chorenge" from the blockbuster film Sholay. The entire 5 minutes song sequence was shot on the bike and it took about 21 days to shoot the song. It's no wonder that the song is so iconic, which is all due to the fact that the main star of this song is this bike.
Well, WickedRiders, with this we come to an end of this list consisting of some crazy and iconic bikes which will always be remembered and go down in history as being the true stars that deserve all the recognition they can get.
Keep Riding!